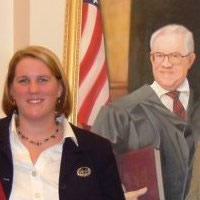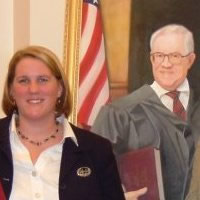 Kathryn Toomey is an attorney in the central Massachusetts area. The daughter of the Honorable Daniel F. Toomey, she grew up in Holden, Massachusetts with a healthy respect and an in-depth knowledge of the legal system. She graduated from Wachusett Regional High School and spent her undergraduate years between UMass-Amherst, University of Hawaii, and abroad for international programs in France. After graduation from Suffolk University Law School in 2000, Ms. Toomey had the pleasure of being sworn in as a licensed attorney by her father, and many people thought she would follow in his footsteps by practicing criminal law and becoming a judge. While she upholds the same ethics and reverence for the law instilled in her by her father, she has chosen a slightly different career path.
Ms. Toomey has been practicing law since 2001. Her areas of expertise include real estate, personal injury, and basic estate planning. Her work experience began at Burns & Farrey, one of the larger firms in Worcester, as an associate attorney where she spent many years learning both litigation and probate matters. Five years later, she choose to gain a different perspective by working at a general practice firm, Eden & Rafferty, where she solidified a career consisting of real estate, representing lenders, buyers and sellers; personal injury, representing both the plaintiffs and defendants; and simple estate planning, including drafting wills, powers of attorney and trusts.
In November of 2006, Ms. Toomey opened the doors to her own practice in downtown Worcester. She has an active practice performing real state closings throughout the Commonwealth of Massachusetts, working with several area lenders, and with the buyers or sellers personally. She is a title agent for both Old Republic and Fidelity Title Insurance. Ms. Toomey also continues to work actively in the fields of personal injury, criminal defense, and simple estate planning.